Closed offices
June 30, 2023
Please note that the GMMQ offices will be closed this Friday, September 22 from 11 a.m. due to the annual employee activity. Thank you.
Exclusive registration or exclusivity contracts: What should I check before signing?
July 17, 2023
For several decades, the dominant model for album production has been the exclusive recording contract, also known as the album contract, record contract, exclusivity contract or phonogram production contract. Although this model has been considerably superseded by the self-production model, it is still very common and not a document to be signed lightly. Before you even enter the studio, it's vital to reach agreement with the production company* on the terms and conditions of your recording contract.
For the sake of clarity, an "exclusive recording contract" is a contract whereby the production retains the exclusive services of one or more artists to produce a sound recording for exploitation. It is the production that assumes the financing of this sound recording.
Exclusivity clauses and options
Duration of exclusivity
Exclusivity exists to encourage productions to invest in a project where the artists, and more often the star artists, won't leave to record elsewhere. When signing such a contract, you need to be aware of the duration and scope of the commitment.
Make sure you are not already bound by another exclusivity agreement that is still in force. If this is the case, the production to which you are initially bound could invalidate the new recording contract or claim sums from you for breach of its own contract. In the case of a group, check whether any of the group members are already bound by such an agreement or, conversely, whether the agreement you are about to sign will allow the group members to record solo albums in parallel, during the exclusivity period.
Long-term exclusivity is generally to the advantage of the production company, while the opposite is to the artist's advantage. In effect, the artist sacrifices his or her freedom to record elsewhere for a given period in exchange for the production's services. If the situation turns sour, you may not be able to record for a certain period of time.
Options
Clauses stipulating that the production may take advantage of one or more album options are also commonplace. They exist for the same reasons as exclusivity. By investing in a first album, it may be reasonable for the production company to want to be able to produce and exploit subsequent albums if the first proves successful. As an artist, you should try to limit as far as possible the number of options you agree to. Beyond one option (i.e. two albums), you are committing yourself for many years. For example, an exclusive recording contract with 4 options (i.e. a total of 5 albums) could bind you to a production for almost 12 years!
Under normal circumstances, producers have a certain number of months after the release of the first album to exercise their option. Make sure you are aware of these deadlines so that they are respected.
Artists' associations such as the Union des artistes (UDA) and the Guilde des musiciens et des musiciennes du Québec (GMMQ) have specific guidelines regarding the duration of exclusivity and album options. These are limited in time and number. Please refer to the applicable collective agreements. By requesting UDA or Guild contracts from productions, you benefit from these protections, but we encourage you to negotiate better terms than the maximums stipulated for the duration of exclusivity and the number of options.
If you have any questions about this type of contract, please do not hesitate to contact your respective artists' associations, who will be happy to answer them!
* By production we mean the producer
AFM Elects New International Leadership
June 30, 2023
The 102nd Convention of the American Federation of Musicians of the United States and Canada was held June 26 through June 29, 2023, at the Westgate Resort & Casino in Las Vegas, Nevada. The theme "In Unity, There Is Strength" was reflected in the various discourse among the delegates and echoed by many guest speakers.
International President Ray Hair, International Vice President Bruce Fife, and Secretary-Treasurer Jay Blumenthal announced earlier this year they would not be seeking reelection, thus opening the top three positions for new leadership.
Election results are as follows:
International President: Tino Gagliardi, Local 802 (New York City)
Vice President: Dave Pomeroy, Local 257 (Nashville, TN)
Vice President from Canada: Alan Willaert, Local 149 (Toronto, ON)
International Secretary-Treasurer: Ken Shirk, Local 99 (Portland, OR)
International Executive Board:
Luc Fortin, Local 406 (Montreal, PQ)
Ed Malaga, Local 171-610 (Washington, DC)
John Acosta, Local 47 (Los Angeles, CA)
Tina Morrison, Local 105 (Spokane, WA)
Dusty Kelly, Local 149 (Toronto, ON)
AFL-CIO Delegates:
Mont Chris Hubbard, Local 99 (Portland, OR)
Tracey Whitney, Local 618 (Albuquerque, NM)
"In the wider world, collaborating with our friends and allies—inside and outside our profession—is the key to winning legislation, winning at the bargaining table, and getting us the pay and the respect we deserve at work," says AFM International President-Elect Tino Gagliardi.
Issues presented to the delegates during the four-day convention included AI; musician replacement technology; building stronger relationships with EDM, DJ, and hip hop artists; mental health aid training for AFM officers and staff; assistance to small locals; investment in organizing and education; and growing the union.
The American Federation of Musicians of the United States and Canada (AFM) is an AFL-CIO affiliated labor union representing 80,000 professional musicians in the United States and Canada. Founded in 1896, the AFM is the largest organization in the world representing professional instrumental musicians playing in orchestras, bands, clubs, and theater—both on Broadway and on tour. AFM members make music for film, television, commercials, and sound recordings. The AFM negotiates fair agreements, protects ownership of recorded music, secures benefits such as health care and pension, and lobbies for musicians and the rights of workers.
Photos can be viewed at: afm.org/convention
What is a collecting society?
June 07, 2023
Often misunderstood, collective management societies are organizations that artists and craftspeople in the music industry should know about. For artists, they can be a very important source of income.
The purpose of these societies is to manage rights that would be too complicated for an artist to manage alone, even impossible. For example, it would be very difficult for a copyright-holding artist to collect payment from every radio station that has made a copy of his or her music in order to play it. And let's not forget that there may be several songs' worth of rights to manage, and that these rights are often shared by several artists (performer, accompanying musician, etc.) on the same work. In such cases, collecting societies are a great help, and even a necessity since they collect royalties on your behalf.
How do collecting societies work?
Collective societies issue licenses, i.e. they authorize the use of your works under certain conditions, to users such as concert halls, bars, businesses, radio stations or online listening platforms, who must, in return, pay to use them. The collecting societies are responsible for collecting the royalties due for these uses and distributing them to those entitled to them.
Strictly in music, there are a considerable number of societies for different rights, all over the world. In Canada, many people have heard of SOCAN1, which generally administers copyright for songwriters.
In Quebec, the Copyright Act also confers rights on performers and producers, also known as "neighbouring rights".
For producers of sound recordings and music videos, Soproq2 administers neighboring rights, while Artisti (created by the UDA) does the same for performers.
In Canada, there are also similar societies that are generally more present in the English-speaking world: CONNECT, which is an equivalent of Soproq, while MROC3 and RACS4 are equivalents of Artisti.
While it's easy to get lost among all these acronyms, a good understanding of these organizations will help you collect the money you're owed. Better still, thanks to strength in numbers, some societies like Artisti represent the interests of their members to the industry and government, with the aim of strengthening artists' rights.
1. SOCAN: Society of Composers, Authors and Music Publishers of Canada
2. Soproq: Société de gestion collective des droits des producteurs de phonogrammes et de vidéogrammes (founded by ADISQ)
3. MROC: Musicians' Rights Organization Canada
4. RACS: Recording Artists' Collecting Society
Résonance is a new column for artists and artisans in the music industry, covering a wide range of topics related to professional practrice and career management. Created at the request of members of the Regroupement des artisans de la musique (RAM), the column will be published monthly.
Six OSM musicians retire
June 05, 2023
CHANTALE BOIVIN – VIOLAS – 28 years at OSM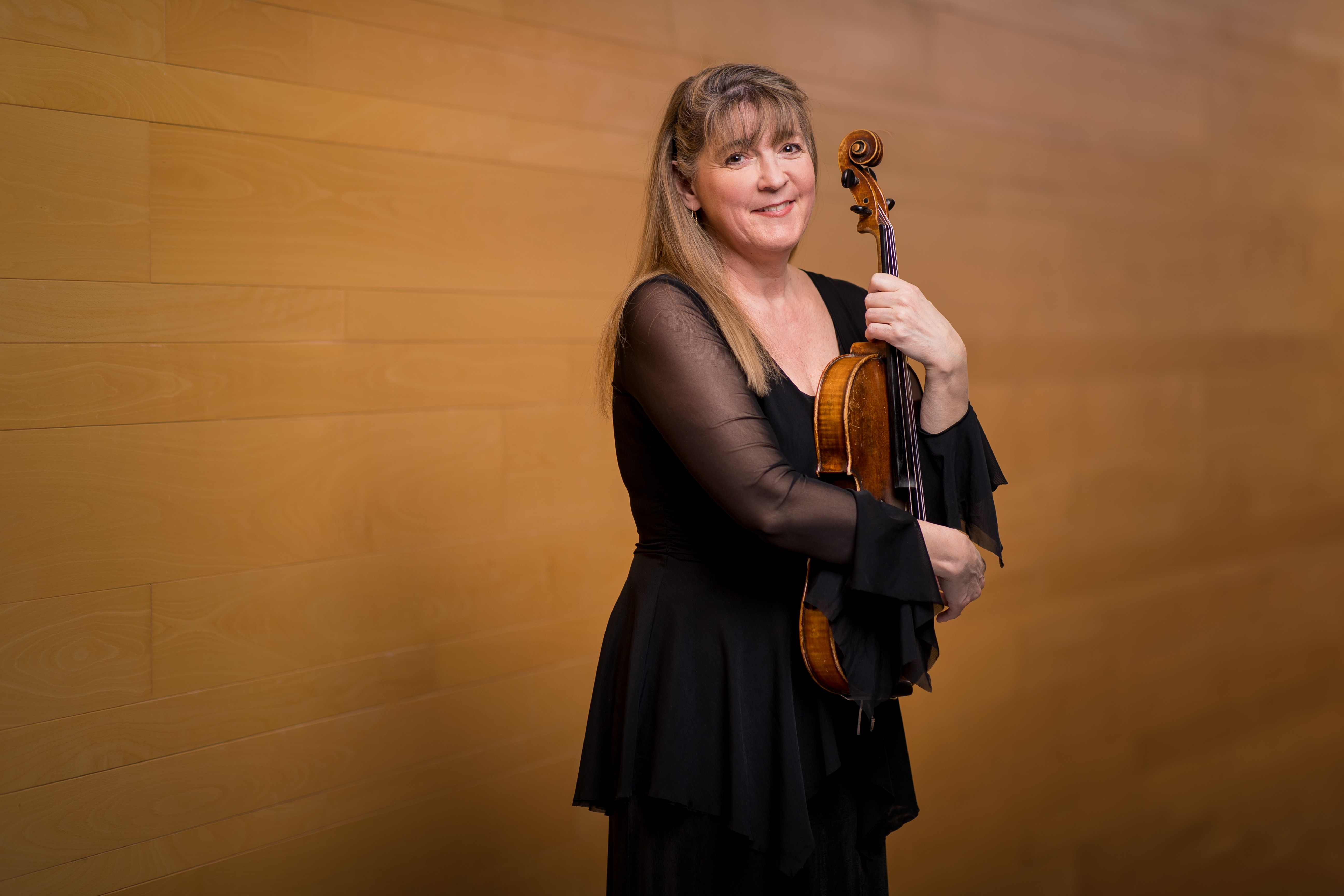 Violist Chantale Boivin studied with Edwin Bélanger before relocating to Montreal to pursue her training with Robert Verebes. In 1988, she became Principal Viola with Symphony Nova Scotia, and later with the Winnipeg Symphony Orchestra, before joining the viola section of the Orchestre symphonique de Montréal in 1995. From 2000 to 2011, Chantale also worked in the OSM music library, preparing bow stroke indications for the string section. She served over the years on the Board of the Quebec Musicians' Guild and as treasurer of the OSM Musicians Association. In total, Chantale Boivin has 57 years to her credit of honing her musicianship and her instrument, including 40 years spent playing professionally. After leaving the OSM, she plans to work in building inspection, without, of course, leaving music entirely behind her!
SOPHIE DUGAS – 1st VIOLINS – 33 years at OSM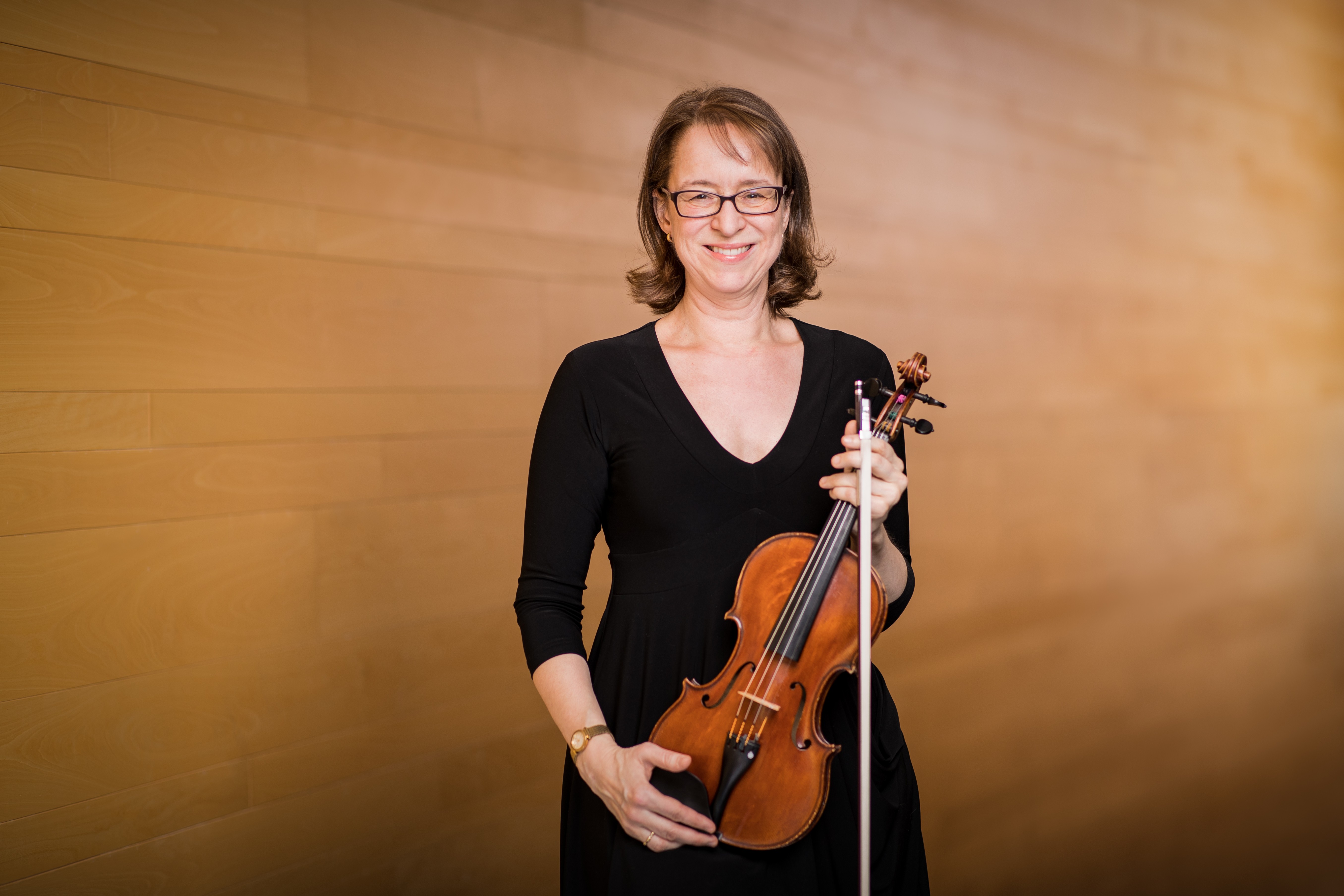 Born in Montreal, Sophie Dugas completed studies at McGill University (class of Thomas Williams) and at the Royal College of Music in London (class of Rodney Friend). Through the years, her interest in chamber music drove her to pursue training with Anton Kuerti and Lorand Fenyves, as well as with the Tokyo, Vermeer, Amadeus and Chilingirian string quartets. Sophie Dugas joined the OSM's first violins section in May 1990, while continuing to perform chamber music, notably with the Trio Mathieu and Les Chambristes de Montréal. "I discovered ensemble music at the age of 10, and that moment of wonderment changed my life. Growing up, to play with the OSM was my dream job. I am grateful to my colleagues and to my wonderful section, who never stopped inspiring me."
MARIE DORÉ – 1st VIOLINS – 30 years at OSM
Marie Doré obtained in 1979 a first prize diploma in violin, by unanimous decision of the jury, as well as an advanced diploma from the Conservatoire de musique de Québec (class of Claude Létourneau). She went on to complete a master's degree at Yale University supervised by Joseph Silverstein and Szymon Goldberg, and also trained at the Meadowmount School of Music (New York) with Ivan Galamian, in Paris with Robert Soëtens, at the Banff Center for the Arts, the Mozarteum University Salzburg, and the International Menuhin Academy in Gstaad (Switzerland), before earning her doctorate at the Université de Montréal (class of Vladimir Landsman). After a 30-year career in the OSM's first violin section, Marie Doré plans to devote herself to chamber music and to exploring other artistic pursuits.
DAVID QUINN – VIOLAS – 41 years at OSM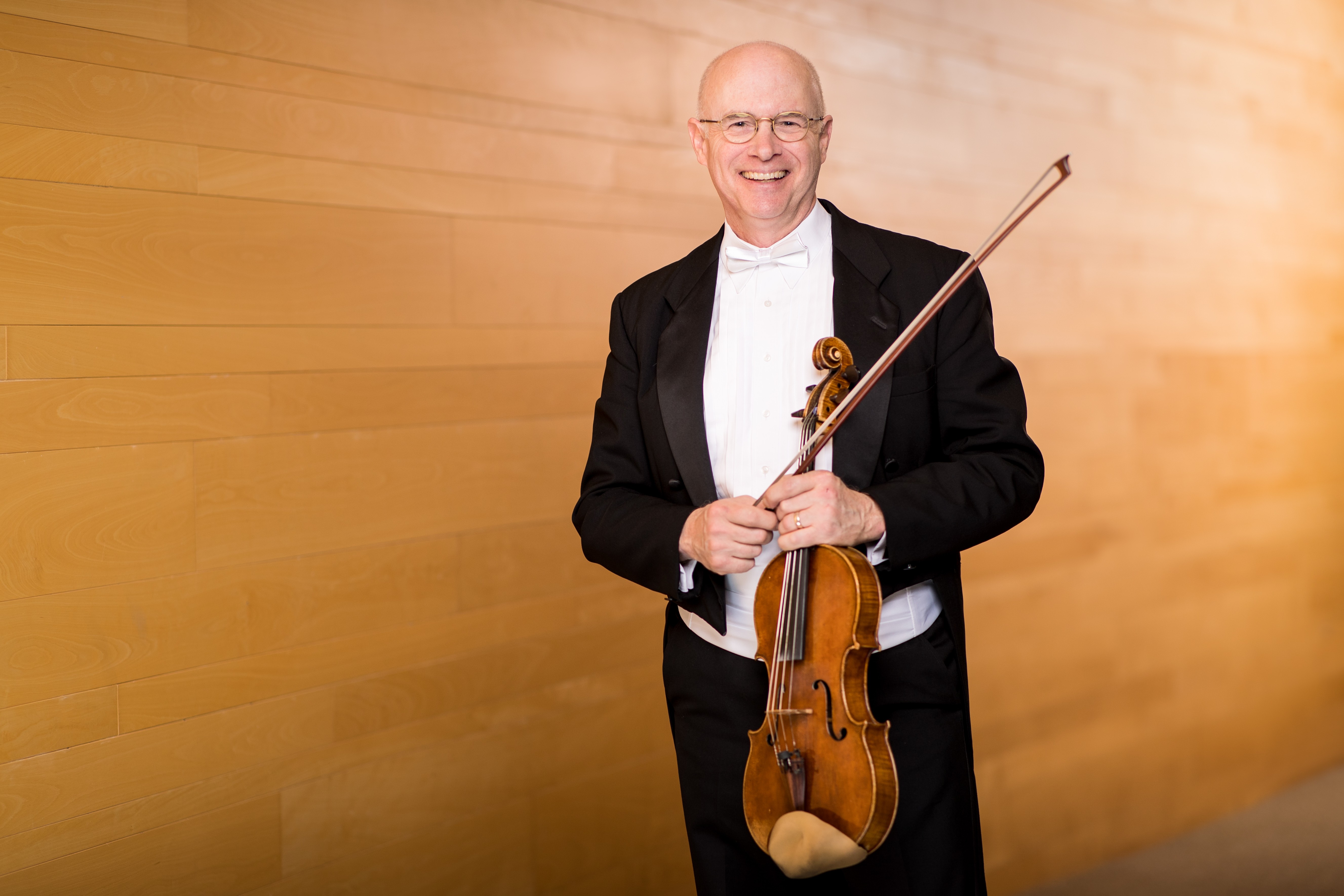 Native of Saint John (New Brunswick), David Quinn has been an OSM violist since 1982. Third son of a nurse and an Anglican minister, his musical life began in the church choir. He then played in the New Brunswick Youth Orchestra and the National Youth Orchestra of Canada. He studied for five years at The Juilliard School in New York. David was one of the founding members of the Quatuor Molinari, playing in that ensemble for five seasons. Together, they performed world premieres and made recordings of new compositions by R. Murray Schafer and others. David has always been an enthusiastic chamber music performer, either with the OSM or elsewhere. He is proud to have played many volunteer concerts with his colleagues over the years.
KAREN BASKIN – CELLOS – 34 years at OSM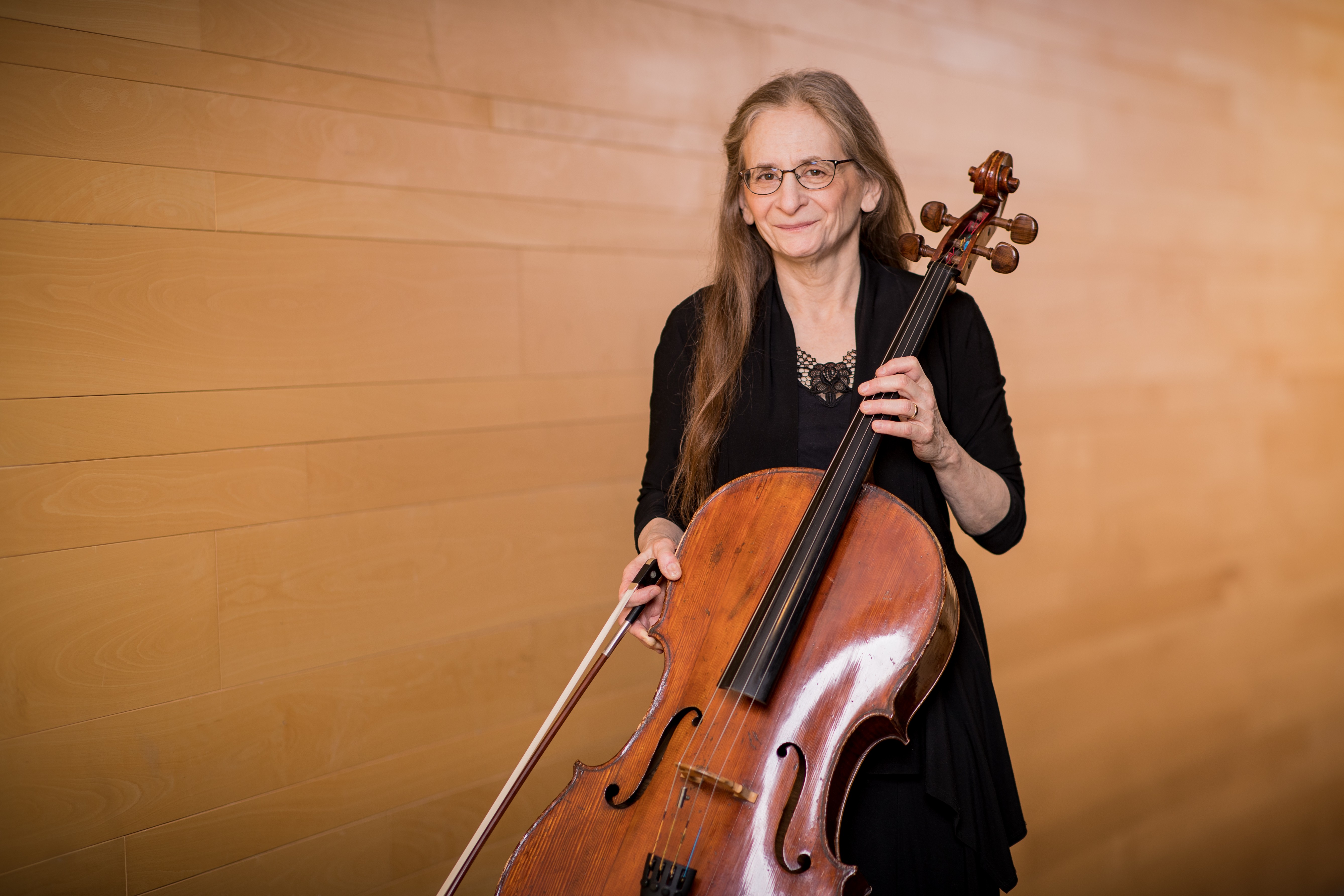 "It has been an honour and a privilege to be a member of the OSM." Karen Baskin grew up in Washington, D.C., studying both piano and cello until she entered Indiana University where she happily focused on the latter instrument. She studied with Fritz Magg and Janos Starker, graduating with a Performer's Certificate for a performance of Prokofiev's Sinfonia Concertante. Shortly after, she joined the Detroit Symphony, played in the Auckland Symphonia (New Zealand) and in several orchestras around the New York area.
Karen was thrilled when her husband, Ted Baskin, became Principal Oboe of the OSM, enabling them to settle in Montreal. For several years, she played chamber music on the Serenata St John Series, which programmed many Bach Cantatas. In 1989, she joined the cello section of the OSM. After thirty-four years in the Orchestra, she looks to the future with many touching memories of camaraderie with colleagues (on and off stage) and inspiring concerts. The Baskin couple now looks forward to spending more time with their children and granddaughter.
THEODORE BASKIN – PRINCIPAL OBOE – 43 years at OSM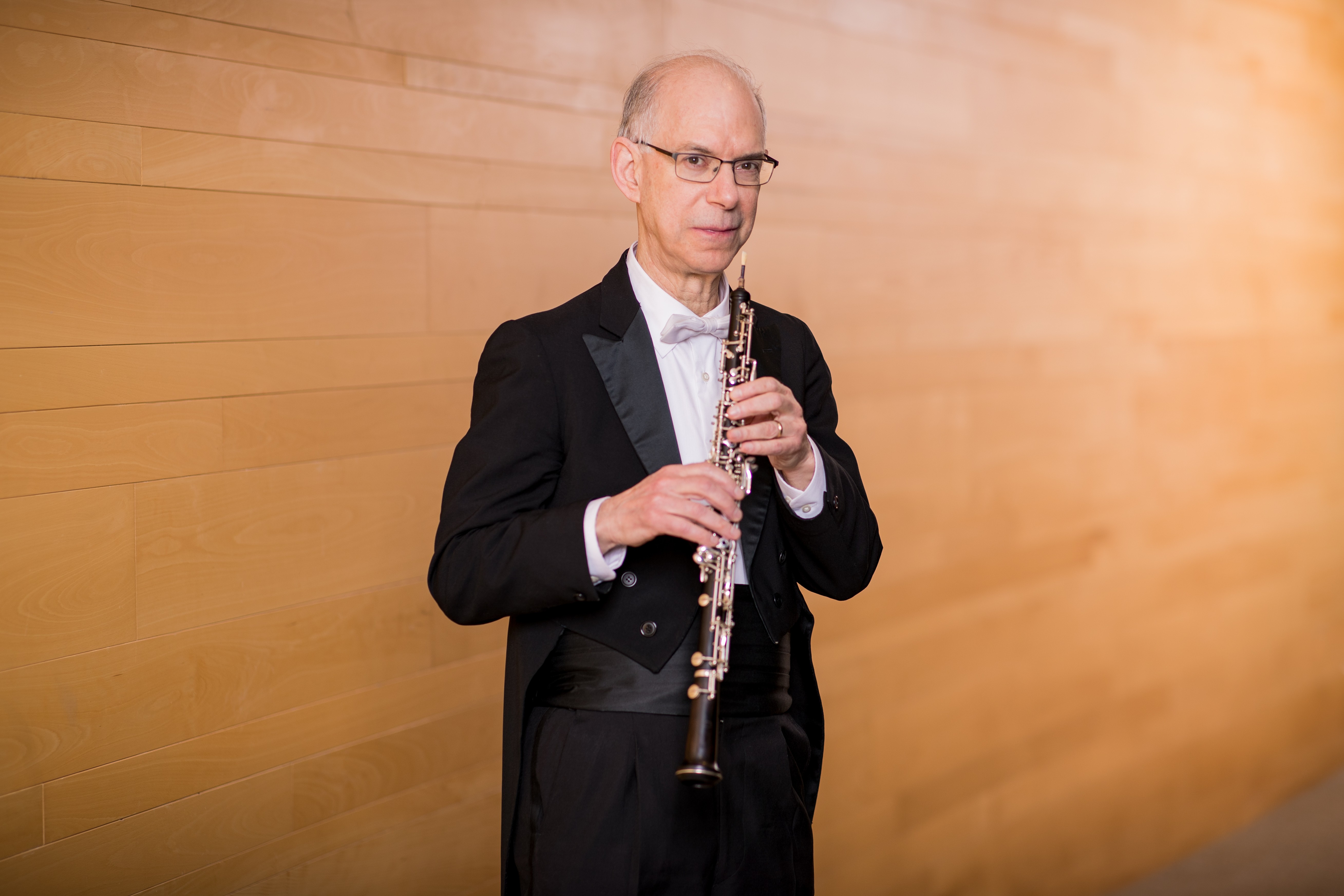 Theodore Baskin studied at Cass Tech (Detroit), The Juilliard School, Curtis Institute
and the University of Auckland and studied with Arno Mariotti and John de Lancie. He was a member of the Detroit Symphony, Israel Philharmonic and Auckland Symphonia (New Zealand) before being appointed Principal Oboe of the OSM in 1980, often performing as a soloist with the Orchestra and premiering two commissioned solo works. In addition to appearing on OSM recordings, he is featured on an album of four Vivaldi Oboe Concerti for Chandos Records with I Musici de Montréal. Always active in chamber music with his OSM colleagues, he has also participated in a Music From Marlboro Tour and performed Bach's Brandenburg Concerti nos 1 and 2 with the Lincoln Center Chamber Players. Theodore Baskin has taught at Indiana University and Orford Music and continues to teach at McGill University. He is grateful to all his colleagues for their dedication, and to the OSM public; together, they have made the orchestra such a positive cultural presence. Finally, he would like to thank his wife, Karen and their children, Jeremy and Sarah, for their support during this remarkable journey of 43 years.
Psychosocial Support Fund for artists and cultural workers
May 15, 2023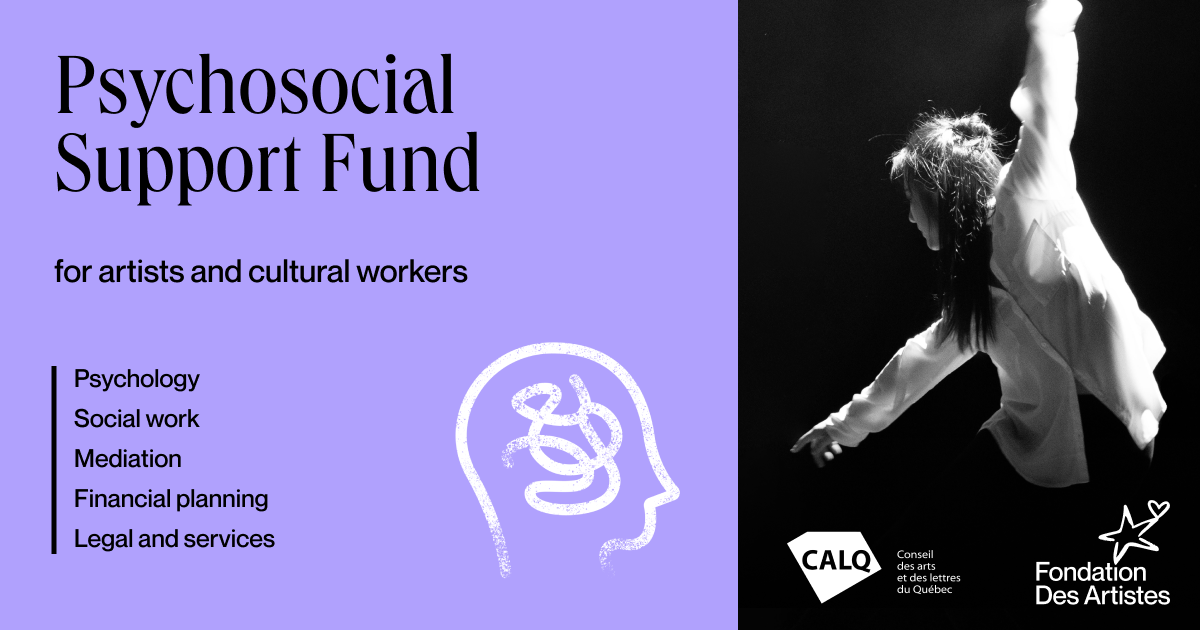 Because your mental health is important and your art is important to us!
Take advantage of the Fondation des artistes' Psychosocial Support Fund, made possible through the support of the Conseil des arts et des lettres du Québec (CALQ).

With this program, benefit from one of the following three options:
Option 1 : Free consultations with competent professionals through a recognized assistance program recommended by the Foundation (psychologists, social workers, mediators, financial planners and dieticians);
Option 2 : An amount to cover your own therapist's fees - maximum of $850 in reimbursement for consultations;
Option 3 : Assistance and legal support with a lawyer in a chosen field (business and corporate law, civil law, family law, housing law, consumer law or labour law excluding union law).
Apply at any time. Applications are processed on a first-come, first-served basis until the program funds are exhausted.
Interested artists and cultural workers are invited to register now via the online form available HERE.
ELIGIBILITY CRITERIA :
Be a professional artist or cultural worker (demonstrate at least 4 years of professional work);

Have your fiscal residence in Quebec;

Be over 18 years old.
Interested artists are invited to register now via an online form HERE.
ADDITIONAL INFORMATION :
Do you have any questions about this program? Do not hesitate to contact a member of the Artists' Foundation team who will be able to assist you at 514 ARTISTE (278-4783) ext. 3 or by email at accueil@fondationdesartistes.ca
Modification de la Loi sur la radiodiffusion (C-11) : les associations professionnelles des artistes saluent son adoption
April 27, 2023
Une meilleure protection de nos talents canadiens et québécois
MONTRÉAL, le 27 avril 2023 /CNW/ - Attendue depuis longtemps, cette modernisation était plus que nécessaire pour la protection et la sauvegarde de notre culture. Le projet de loi C-11 est un grand chantier de modernisation de la Loi sur la radiodiffusion. L'Union des artistes (UDA), la Guilde des musiciennes et musiciens du Québec (GMMQ), l'Association des réalisateurs et réalisatrices du Québec (ARRQ) et la Société des auteurs de radio, télévision et cinéma (SARTEC), se sont rapidement positionnées en faveur du processus et se réjouissent aujourd'hui de son adoption. Même si ce projet de loi n'impose pas les mêmes obligations aux plateformes étrangères qu'aux diffuseurs canadiens, une telle réforme était importante et il incombera au CRTC de s'assurer de mieux soutenir les artistes d'ici et leurs talents.
« Nous contribuons aux réflexions entourant la modernisation de la radiodiffusion depuis les premiers travaux de la commission Yale sur l'avenir des communications au Canada et nous sommes heureux de voir les résultats de nos efforts répétés. Aujourd'hui, cette adoption impose aux géants du web des règles du jeu plus équitables. » - Tania Kontoyanni, présidente, Union des artistes (UDA)
« Les principes directeurs de la loi permettront le rayonnement de la culture canadienne notamment à travers l'obligation d'avoir recours aux ressources créatrices canadiennes et par la protection et la promotion de la culture francophone et de la langue française partout au pays. Rappelons que la plateforme électorale du gouvernement actuel promettait de ramener la part de la production francophone à 40% de l'enveloppe du FMC, en hausse par rapport au 33% actuel. Le décret d'instruction au CRTC devrait être une manière d'y arriver. » - Gabriel Pelletier, président, Association des réalisateurs et des réalisatrices du Québec (ARRQ)
« Il s'agit d'une victoire importante face aux demandes des géants du web et une preuve que le Canada puisse demeurer une plaque tournante de l'industrie culturelle, mais pas à n'importe quel prix. Notre talent et notre créativité sont reconnus mondialement et nous devons continuer de nous tenir debout face à l'ingérence étrangère sur notre souveraineté culturelle. Maintenant, il faudra s'assurer que les publics de tous les horizons et de tous les âges puissent découvrir les productions du Québec et du Canada. » - Chantal Cadieux, présidente, Société des auteurs de radio, télévision et cinéma (SARTEC)
« Nous nous réjouissons du travail du gouvernement, des sénateurs et des partis politiques impliqués depuis le dépôt de la première mouture du projet de loi. Nous les remercions de s'être tenus debout pour les 650 000 Canadiennes et Canadiens qui travaillent quotidiennement au rayonnement de notre culture. Nous continuerons le travail suivant cette adoption en ce qui concerne notamment les décrets d'instruction du Conseil de la radiodiffusion et des télécommunications canadiennes (CRTC) afin que cela reflète adéquatement les enjeux de nos membres.» - Luc Fortin, président, Guilde des musiciens et musiciennes du Québec (GMMQ)
À propos
Association des réalisateurs et des réalisatrices du Québec (ARRQ)
L'ARRQ est une association professionnelle reconnue regroupant plus de 800 membres de partout au Québec. Ces derniers œuvrent dans les domaines du cinéma, de la télévision, du web et de l'animation. Comme association, elle défend les intérêts et les droits professionnels, économiques, culturels, sociaux, moraux de tous les réalisateurs et réalisatrices du Québec. Parmi les actions vouées à la défense des droits des réalisateurs et au respect de leurs conditions de création, l'association négocie des ententes collectives, rédige et participe à l'élaboration de mémoires tout en collaborant à de nombreuses études.
Guilde des musiciens et musiciennes du Québec (GMMQ)
La GMMQ est un syndicat professionnel reconnu qui compte 3 100 membres et a pour mission de faire reconnaitre la valeur de la musique ainsi que la contribution indispensable des musiciens professionnels à la société en représentant et en défendant leurs intérêts artistiques, sociaux et économiques. Elle négocie des ententes collectives et met à la disposition de ses membres un contrat type d'engagement. La GMMQ établit les conditions minimales de travail des musiciens et agit collectivement au nom de ses membres lorsqu'elle estime que leur intérêt est touché. Elle exerce aussi des activités de lobbying visant à promouvoir la musique et les musiciens auprès des instances gouvernementales et des communautés locales, nationales et internationales.
Société des auteurs de radio, télévision et cinéma (SARTEC)
La SARTEC représente l'ensemble des auteurs de l'audiovisuel et est reconnue pour son rôle auprès des auteurs de langue française dans le secteur du film par la Commission de reconnaissance des associations d'artistes et des associations de producteurs (CRAAAP) depuis octobre 1989. Elle est également accréditée par le Tribunal canadien des relations professionnelles artistes-producteurs comme agent négociateur exclusif des auteurs de langue française œuvrant à la radio, à la télévision, au cinéma et dans l'audiovisuel. Sa mission s'articule autour de la protection des intérêts professionnels, moraux et économiques des auteurs de langue française et de l'amélioration des conditions d'exercice du métier par la négociation d'ententes collectives avec les différents producteurs.
Union des artistes (UDA)
L'UDA est un syndicat professionnel représentant près de 13 000 artistes regroupés au sein de quatre groupes de fonctions artistiques, soit les acteurs-actrices, les chanteurs-chanteuses, les animateurs-animatrices et les danseurs-danseuses, qui exercent leur métier dans une multitude de disciplines. Sa mission est de défendre les intérêts sociaux, économiques et moraux de ses membres, qui sont pour la plupart des travailleurs autonomes. Au cœur de ses activités se trouvent la négociation de conditions minimales de travail, la rémunération des artistes et le respect des ententes collectives.
Renseignements: Association des réalisateurs et des réalisatrices du Québec (ARRQ) : Mélodie Roy, 514 887-9356, mroy@uda.ca; Guilde des musiciens et musiciennes du Québec (GMMQ) : Floriane Barny, 514 842-2866 poste 229, communications@gmmq.com; Société des auteurs de radio, télévision et cinéma (SARTEC) : Sonia Sekhi, 514 526-9196 poste 229, ssekhi@sartec.qc.ca; Union des artistes (UDA) : Mélodie Roy, 514 887-9356, mroy@uda.ca
In nine months, the Artists' Foundation has directly helped nearly 5000 artists and cultural workers in the performing arts
April 03, 2023
Montreal, April 3, 2023 – Since June 2022, $12.7 million has been awarded to 4963 artists and cultural workers through the REINFORCEMENT program created and managed by the Artists' Foundation (AF). The AF has fulfilled its mission to support professionals in the performing arts, one of the cultural sectors most affected by the pandemic. With REINFORCEMENT, which was launched with funding from the Canada Performing Arts Workers Resilience Fund, the AF was the only organization in Quebec and one of only four in the country authorized to distribute this direct financial support. From June to March, it received no fewer than 7230 applications for this subsidy.
In addition to the creation of REINFORCEMENT (which provided support of up to $2500/person), the $12.7 million in funding allowed the AF to deploy:
• The Psychological Support Fund: This funding of $400,000 ensured that artists could receive free mental health consultations through a partner or money to cover their own therapist's fees.
• The Legal Support Fund: This funding of $400,000 went to artists to help them access free legal consultations with a lawyer who is a member of the Barreau du Québec.
A Foundation that is still vital for artists and cultural workers
"This invaluable support has alleviated the distress of thousands of artists and cultural workers by alleviating the impact of the crisis," said Hélène Côté, Executive Director of the AF. "However, many people still need direct support to pursue their careers and practise their craft in decent conditions. They also have mental health needs that must be addressed."

Ms. Côté hailed the initiative of the Honourable Pablo Rodriguez, Minister of Canadian Heritage, and his ministry toward this essential program while emphasizing that the AF intends to pursue its mission to support local artists. The organization has produced short videos featuring testimonials from people who have received grants through the REINFORCEMENT program that attest to artists' vulnerability while emphasizing the importance of art and culture in our lives.

Assistance provided by REINFORCEMENT per sector and trade, June 15, 2022 to March 27, 2023
(percentage of total applications)
• Actors (13.4%)
• Street performers (3%)
• Multidisciplinary artists (7.8%)
• Dramatists (1%)
• Singers (3.6%)
• Singers and musicians (14.6%)
• Circus performers (4.6%)
• Musical theatre songwriters or composers (5.5%)
• Set, lighting or costume designers (2.6%)
• Dancers (7%)
• Comedians (1.9%)
• Magicians (.3%)
• Directors or assistant directors / stage managers (2.4%)
• Musicians (18.6%)
• Touring staff (.7%)
• Stage technicians or support staff (9.6%)
• Other cultural workers (2.5%)
• Other (3.6%)
About the Artists' Foundation
The Artists' Foundation (AF) is a non-profit organization that has been providing one-time financial assistance since 1984 to local professional artists from all disciplines who are going through a difficult period. Since 2021, it has offered psychosocial support to professionals in the cultural sector through access to immediate assistance. AF professional artists access suitable and equitable living conditions so that they can practise their crafts and pursue their careers. Supporting the AF means playing a leading role in a highly engaged community that cares about local culture and the well-being of its artists.

About the Canada Performing Arts Workers Resilience Fund
Launched in February 2022, this temporary funding program from the Department of Canadian Heritage represented a $60-million envelope to assist performing arts workers in the 2022-2023 fiscal year. It expired on March 31, 2023.
Information fondationdesartistes.ca/en
– 30 –
Information and interview requests
Julie Gagnon
514 713-4381
julie@juliegagnon.ca
Isabelle Fafard
514 865-8157
isabelle.fafard@180deux.ca
SURVEY DIVERSITY
February 21, 2023
The CAFID committee of the GMMQ is organizing a vast survey about the representativeness of its members in music in Quebec.
To take the survey, click on the link below:
AFM Opposes Proposed USCIS Visa Increases
March 01, 2023
We are greatly concerned with the United States Citizenship and Immigration Services (USCIS) proposal to triple the fees for P (including P2's) and O Visa applications.
If implemented, this will have a devastating impact on the mobility of Canadian and International touring musicians to perform in the US. It will also disproportionately impact the cost for indie touring bands.
We want to assure you that we are working with the CFM to develop an action plan to fight back and will have more to report in the weeks coming. Please note that any fee increases are likely not to come into effect until the fall of 2023. Meanwhile, the AFM is actively lobbying Homeland Security and US government.
See here the message of the President of the AFM
What you can do:
1) Contact the Representative of American Congress
We are asking you to reach out to your US colleagues/engagers/musicians/employers and ask them to contact their Representative of Congress. It is important that US politicians hear that the proposed increases will have a negative impact on their constituents' businesses, and revenues. To help your US contacts to take action please feel free to cut and paste the following into an email:
Dear Representative or Senator ...,
I want to let you know about the substantive increases that United States Citizenship and Immigration (USCIS) is proposing on musicians who tour in the US. The proposed increases are upwards of 251%, well beyond the cost of living and inflation.
USCIS imposing such heavy increases will vastly limit international touring and stifle cultural collaborations, activities that contribute significant revenue to the US economy. These also create a multiplier effect for local communities across the States – benefits dining and lodging revenues, live music venues bookings, ticket sales, transportation rentals and gas expenditures, and overall provide general employment in the performing arts sector. Furthermore, touring artists pay US and Federal state taxes on their performance earnings.
(We strongly encourage you to add a personal note here on how you or your business will be impacted)
I am calling on you to halt, or at least limit these onerous increases – increases that will hit an economy still in recovery from COVID-19 pandemic. Increases that not only impact musicians, but also dancers, actors, athletes, visual artists, and many others working in related artistic disciplines.
Yours Sincerely,
2) What else can you do ?
You can also urge your american colleagues to register their opposition online through the US Federal Register Portal (does not work from Canada).
And do it yourself by following this procedure (the only one that works from Canada):
Select "An Organization" in the "Tell us about yourself" section to comment as a Canadian.
Select "Foreign" in the "Organization Type" section.
Write "Quebec Musicians Guild Federation of musicians" in "Organization Name".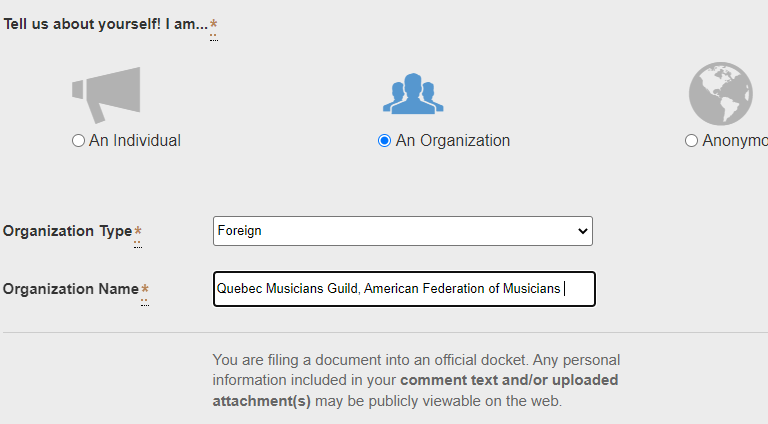 Deadline for comments is March 6, 2023.
We remain at your side to defend your interests,
Luc Fortin, President of the GMMQ, Local 406 of the AFM.